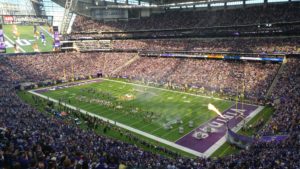 Arizona Cardinals (4-4-1) at Minnesota Vikings (5-4)
KICKOFF: Sunday, noon, U.S. Bank Stadium, Minneapolis. TV:
FOX, Joe Buck, Troy Aikman, Erin Andrews.
SERIES HISTORY: 25th regular-season meeting. Vikings lead series, 13-11. Vikings are 7-4 at home and will be playing the Cardinals at U.S. Bank Stadium for the first time. Arizona won the last meeting, beating an injury-riddled Vikings team 23-20 at Arizona in a Thursday night game. The Vikings had won the previous three meetings, all at Minnesota, and are 8-0 at home against the Cardinals since losing to the then-St. Louis Cardinals 27-7 in 1977. The teams have met twice in the playoffs, with the Vikings winning divisional matchups at home in 1974 and 1998.
GAMEDATE: 11/20/16
KEYS TO THE GAME: The Cardinals and Vikings were expected to be among the top teams in the NFC, with Super Bowl aspirations and talented rosters coming off last year's playoff appearances. Minnesota started the year 5-0, with QB Sam Bradford acquired in a trade to replace injured Teddy Bridgewater and RB Adrian Peterson out injured. Arizona was 1-3 a month into the season.
Since their undefeated start, the Vikings have lost four in a row. The Cardinals (4-4-1) used two wins against the San Francisco 49ers to jumpstart the middle of their season.
Both teams were counting on top defenses. Arizona owns the league's second-ranked defense in terms of yardage, one spot ahead of Minnesota. The Cardinals are allowing 295.2 yards per game compared to the Vikings' 308.8. But Minnesota is allowing a league-low 16.9 points per game. Arizona is tied for third, giving up 17.8.
The Vikings keep losing players, and that doesn't count cutting kicker Blair Walsh and signing Kai Forbath.
Jake Long tore an Achilles tendon last Sunday, becoming the fourth Vikings offensive tackle with a season-ending injury this season. Left guard Alex Boone asked to play left tackle. He has the build to play there, and some experience at doing so. But all indications are the Vikings will move right tackle T.J. Clemmings back to left tackle, where he was before Long was signed during the bye week, and put Jeremiah Sirles at right tackle, where he started two games earlier this season.
Cardinals safety Tyrann Mathieu returned to practice on Wednesday but was limited due to a shoulder injury, and it is unclear whether he will help Sunday.
MATCHUPS TO WATCH:
–Vikings WR Stefon Diggs vs. Cardinals CB Patrick Peterson. Cardinals coach Bruce Arians said he'll put Peterson, his big shutdown cover corner, on Diggs, the shifty receiver who became the first player in NFL history with back-to-back 13-catch games. Diggs had 26 catches for 244 yards in consecutive losses to Detroit and Washington. Peterson, the 6-1 corner with the long arms and a load of confidence, has made five Pro Bowls and been named first-team All-Pro three times.
–Vikings DE Everson Griffen vs. Cardinals LT John Wetzel. Griffen leads the Vikings with eight sacks; but, like all of his fellow Vikings pass rushers, he has been frustrated as teams have been getting rid of the ball more quickly. When the Vikings were 5-0, they led the league with 19 sacks. They have three during their four-game losing streak. Wetzel will be making his second straight start at left tackle since regular starter Jared Veldheer was placed on injured reserve. Wetzel is a journeyman who bounced from the Raiders to the Cowboys to the Colts to the Cardinals' practice squad a year ago. He had never played a down in the NFL regular season until this season. He also has a start at left guard. Griffen, however, was neutralized last week when Washington was forced to start a backup because of Trent Williams' four-game suspension.
PLAYER SPOTLIGHT: Vikings kicker Kai Forbath. Welcome to Minnesota, Kai. No pressure. Just make every single kick you attempt and don't botch any kickoffs, and everything will be just swell. Forbath was signed on Tuesday, the same day the Vikings released Blair Walsh, who missed eight kicks in nine games — including four PATs, the last in Sunday's loss at Washington. Walsh clearly lost all confidence since his infamous 27-yard miss in the closing seconds of the 10-9 playoff loss to Seattle last season. If Forbath misses so much as one makeable kick, the negativity will shift to him and the questions will begin to flow as to whether he is the guy for the job.
INJURY REPORT: Arizona — Doubtful: DT Corey Peters (foot). Questionable: S Deone Bucannon (ankle), S Tyrann Mathieu (shoulder), CB Tharold Simon (ankle). Minnesota — Out: DT Sharrif Floyd (knee). Questionable: LB Eric Kendricks (hip), CB Captain Munnerlyn (ankle), CB Marcus Sherels (ankle).
FAST FACTS: Cardinals QB Carson Palmer has fumbled a league-high 10 times this season, losing three; it is the most fumbles for Palmer since 2006, when he had 15 as a Bengal. In four starts against the Vikings, Palmer has a 105.2 rating, with seven TD passes, one interception and a 3-1 record. The 105.2 rating is his fourth-highest against any opponent. … Vikings QB Sam Bradford has posted a passer rating of 100 or better in five of eight starts with the Vikings this season. That's a career high, surpassing the four 100-plus games he had with the Rams in 2012 and the Eagles in 2015. … Vikings WR Cordarrelle Patterson has at least three catches in a career-high six straight games. A year ago, the former first-round draft pick had only two catches for 10 yards. This year, he is one of four Vikings with at least 30 catches. He has 30 for 256 yards and two touchdowns.
###
Copyright © 2016
TTWN Media Networks Inc.