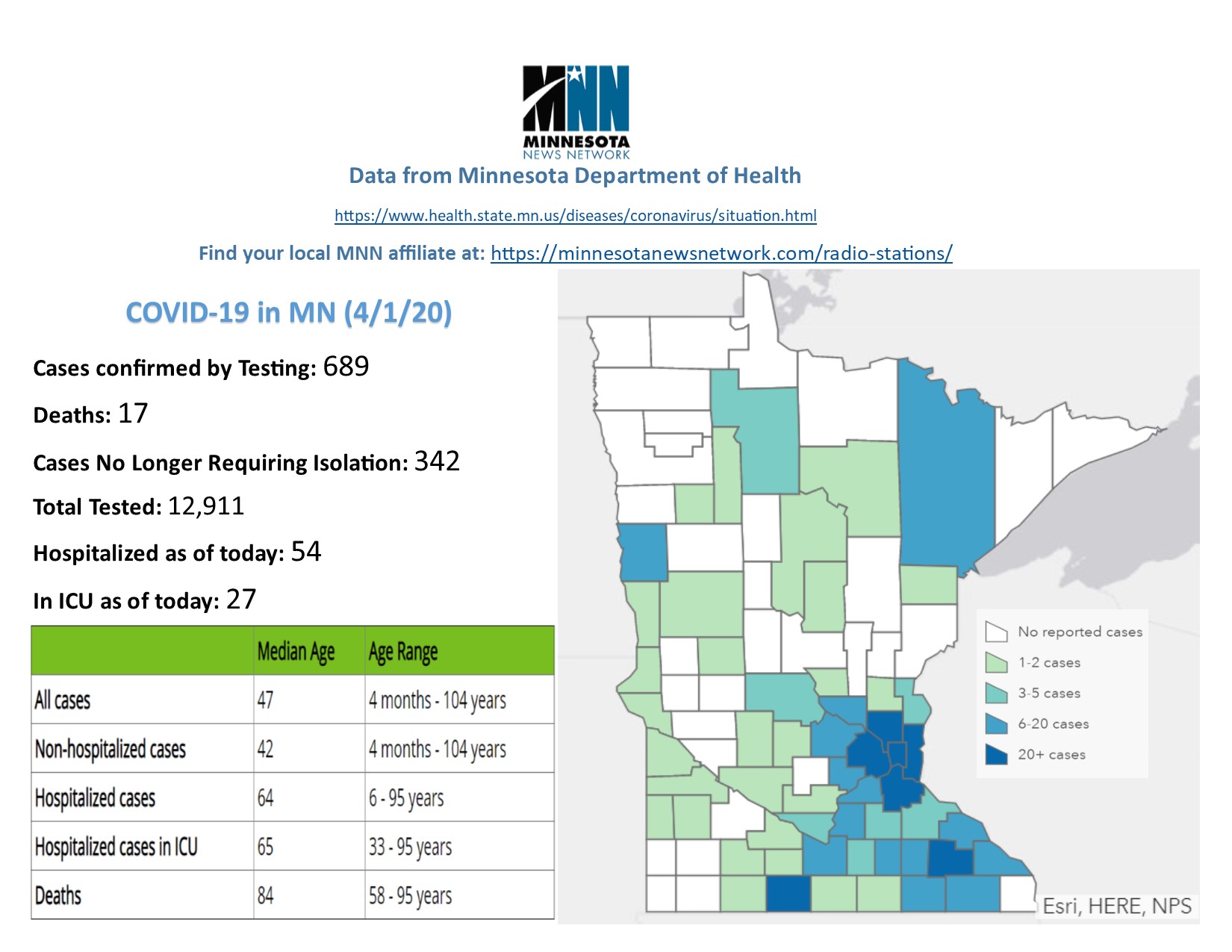 The search for personal protective equipment (PPE) remains a top priority for state officials as Minnesotans and Minnesota businesses continue to flood the State Emergency Operations Center (SEOC) with offers to help.
"Our top priority is our front-line health professionals," said Joe Kelly, director of the Minnesota Department of Public Safety's Homeland Security and Emergency Management Division (HSEM). "We need to keep our doctors and nurses healthy so they can take care of the rest of us. That means preserving all the medical-grade equipment for them that we can."
Kelly said more than 800 people have contacted the SEOC offering services and products.
"If you are kind enough to make cloth masks, I suggest you distribute them locally," Kelly said. "Get your masks to local health care centers, jails, long-term care facilities, and transit drivers. You can immediately protect people in your community."
State agencies and volunteer organizations continue working from the SEOC to keep Minnesotans safe and coordinate efforts to provide essential services during the COVID-19 pandemic. The SEOC was activated to support state agencies with their COVID-19 response following Gov. Tim Walz's executive order issuing a Peacetime State of Emergency in response to the pandemic.
Donation management keeping SEOC staff busy
The SEOC is working on donation management to determine what businesses and private citizens are donating and how that material will be distributed to those responding to the outbreak.
State officials are evaluating two possible alternate care facilities on Wednesday. Work continues to plan for stocking and staffing these facilities should they become necessary.
The SEOC continues to support the state hotline. State employees are staffing the hotline and are answering calls from 7 a.m. to 7 p.m. daily at either 651-297-1304 or 800-657-3504. Hotline staff answered 285 calls on March 31.
Here are today's updates and actions from state agencies and volunteer organizations:
5 more Minnesotans have died bringing total fatalities to 17; average age of victims is 84
Minnesota Update
Total of 689 lab-confirmed cases in Minnesota – up 60 cases from March 31.
17 reported deaths; the average age is 84 with the age range of the deceased being 58 to 95.
Since the start of the outbreak, 122 patients in Minnesota have been hospitalized.
54 patients currently hospitalized with 27 in the ICU; the rest are recovering at home.
See the latest situation report on the Minnesota Department of Health's website.
There were 1,274 calls to MDH public hotline on March 31. The public hotline is open 7 a.m. to 7 p.m. The number is 651-201-3920.
There were 671,485 visits to MDH COVID-19 website on March 31.
Global/National Update
Worldwide: 873,700 cases and 43,200 deaths.
S.: 189,633 cases (NY: 76,049; NJ: 18,997; CA: 8,584; MI: 7,615; MI: 7,615) and over 4,000 deaths (nearly 1,100 in New York City).
State fire marshal staff to conduct inspections at alternative care sites for COVID-19 patients
State Fire Marshal Division staff will be inspecting alternative care sights across the state as they are opened to handle COVID-19 patients. These inspections will ensure that any facility housing patients meet minimum fire code and fire safety requirements.
Red Cross in Minnesota: Blood drive precautions enhanced for safety
The Minnesota Red Cross has moved to an appointments only process for all blood drives and donation centers through April 11.
In addition, blood collection in our region will take place only at donation centers and larger spaces, not on bloodmobiles, through May 1.
Blood drive safety precautions now include collection staff and volunteers wearing face masks.
Thank you to everyone for keeping blood on the shelves in our region and across the country during this uncertain and challenging time.
Please keep scheduled appointments. Make new blood donation appointments for the weeks ahead by visiting RedCrossBlood.org or calling 1-800-RED CROSS (1-800-733-2767).
Department of Commerce shares tips on avoiding robocall scams
Scammers will be taking advantage of the uncertainty and greater use of phones during the governor's stay home  order to try and profit from illegal robocalls:
These calls may request personal information such as social security or bank account numbers or promise services related to COVID-19;
The alert provides information about ways Minnesotans can protect themselves from robocall scammers;
Additional information about who consumers can contact to report robocalls, both at the FTC and Department of Commerce.
Office of Pipeline Safety reminds Minnesotans to call 811 before digging
Minnesotans spending more time at home may find themselves working on spring yard projects. The Minnesota Office of Pipeline Safety reminds people to call 811 before they dig. Calling 811 two business days before digging is the law. It also ensures a trained professional comes out and marks the location of underground utilities. Gas, cable, internet and other critical lines could be just inches from the surface. Striking them could cause injuries, service interruptions and property damage. Call 811 before you dig or go to online to Gopher State One Call to submit a ticket.
Traffic volumes remain significantly below 2019 levels
The Minnesota Department of Transportation continues to monitor traffic volumes statewide.
Statewide: Traffic volumes on March 31 were down 35 percent compared to Tuesday averages for March 2019.

Tuesday have continued to see a downward trend and were down a further 10 percent from the previous Tuesday (March 24).

Metro area: Traffic volumes on March 30 were down 39 percent compared to Tuesday averages for March 2019.
ICYMI: MCAs/MTAS canceled for 2019-2020 school year
Minnesota has closed statewide assessments for the remainder of the 2019-2020 school year, including MCA and MTAS. On March 31, the U.S. Department of Education officially approved a waiver to Minnesota for the federally-mandated standardized statewide assessments, accountability, and reporting requirements.
Minnesota Adjutant General Major General Jon Jensen asks Minnesotans to contribute to state's COVID-19 response
Major General Jon Jensen is asking Minnesotans to contribute personally to the state's COVID-19 response.
"I wanted to share my gratitude, respect, and admiration for Minnesotan's support to the Minnesota National Guard since 9/11. I encourage every Minnesotan to show their appreciation for Minnesota's healthcare, public safety, and education and childcare providers during this critical time. This is our time to be great, to serve each other, and to make a difference."