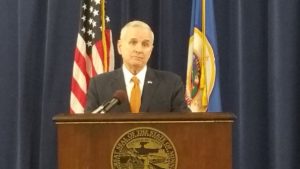 Legislative working groups begin meeting today to hammer out details for a possible pre-Christmas special session. On Friday Governor Dayton and legislative leaders set the parameters to include tax cuts, a borrowing package for capitol improvement projects, and a financial assistance package to help Minnesotans with rising health insurance premiums next year:

Governor Dayton has given the working groups until Wednesday to finish their work.
Last week's $1.4 billion state budget surplus forecast prompted the governor and legislative leaders to renew discussions about a special session. One of the key topics on the table: fixing rising healthcare costs. Minnesota Management and Budget Commissioner Myron Frans acknowledges it's an issue with statewide impact…

In addition to healthcare, lawmakers are looking at addressing taxes and a bonding bill in a special session–tentatively set for December 20th.